Alternate Ways to Get Intimate with Your Man when You're Not Ready for Sex ...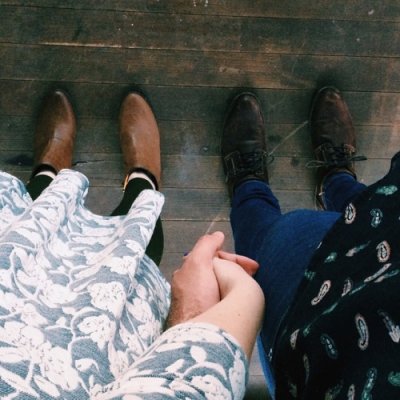 You don't have to give up intimacy just because you're not having sex. It can be hard to remember that in a highly sexualized world, so remember it! There are plenty of reasons that couples stop having sex, too, from not being ready to health issues, distance or even babies. Whilst intimacy and sex are often linked, they don't go hand in hand. Intimacy is about being close and maintaining a relationship, and there are plenty of ways that you can do that without intercourse. Here are some of the most effective:
Too often, touch falls to the wayside in relationships, and we forget about it entirely. Don't let that happen. Make a point of keeping touch an active part of your relationship, and don't let it just become sexual. It could be kissing, hugging, touching each other's faces, touching his hair etc ...
2.

Pretend to Be a New Couple
It might sound weird, but try pretending to be a new couple. Remember when you were just beginning to date? Recreate that feeling. Go out together, and explore new places. Meet friends. Talk about things. Dedicate time to just being together and make sure that any work or family stress is left at the door.
Okay, so it's a bit cheesy, but everyone likes holding hands. When was the last time you saw an old couple holding hands? I bet you smiled. It's cute, and it's intimate. We all want to get old like that. Put a good foundation in place by holding hands whilst you're going about your day, like shopping or walking.
4.

Keep the Conversation Flowing
While silence can be a sign of comfortableness, it can also suggest an atmosphere, or that you've run out of things to say. It can erode the relationship a little. Spend some time thinking of new things to talk about, and testing new conversations. Talk about everyday events, dreams, how you feel. Share things with each other. Don't underestimate how intimate talking can feel, when you're getting it right.
Grab a recipe book, and pick something that looks really tasty. Go and get the ingredients together, and learn to make it together. There's a lot to be said about the way to someone's heart being through their stomach! It's a great way to spend time together, learn something new, and get a great homecooked meal.
Set yourselves a challenge to take amazing photos of each other using whatever equipment you have – it could be point-and-shoot cameras, or phone cameras, or SLRs. Looking at someone through a lens or screen is much different to looking at them with the naked eye! It sounds like rubbish, but it's true. Go about your daily business with your challenge to get great photos, and then share your favourites every now and again. Intimate, and fun!
You can find out a lot about someone by what they like. Make a point of creating albums full of favourite songs or albums, and sharing them. Watch movies together, recommended by one of you. Spend time enjoying things and talking about why you enjoy them. If you like science or art, try galleries and museums, too. I've had some amazing reconnecting visits there.
Remember that being intimate is an ongoing process – you can't do one thing to build it and then forget about it. Try scheduling one day a month to visit somewhere together, and another day to cook a meal together. You can always edit, if you need too. Have you got any great tips for building intimacy? I'd love to hear them!
{{#comments_count}} Show Commnents ({{comments_count}}) {{/comments_count}}