7 Date Night Ideas for Crafty Couples ...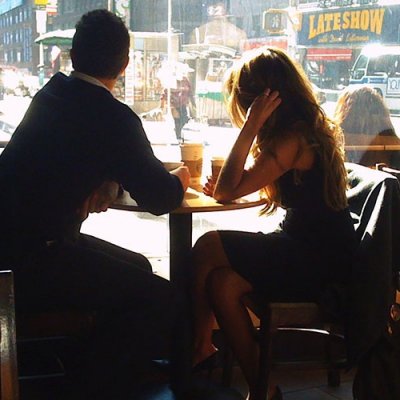 If you two aren't in the mood to just sit around and watch Netflix, then you can do something creative. After all, crafts aren't reserved for little kids and little old ladies. You can create them at any stage in life, and it's always more fun with a friend! If you want to get your creative juices flowing, here are a few date night ideas for crafty couples:
You can spend one of your dates creating date ideas for future dates. You can start by grabbing a jar and decorating it with your initials, photographs of the two of you, and whatever else you'd like. Then you should paint a few popsicle sticks different colors and write date ideas on them. Write rainy day date ideas on blue sticks, intense date ideas on green sticks, and romantic date ideas on red sticks. In the future, you can pick out a stick of the color of your choosing and then do whatever it says on it.
2.

Create a Couple's Time Capsule
If you have tons of photographs and ticket stubs that you'd like to keep safe, then you can create a couple's scrapbook together. If you don't have the patience for that, then you can create a couple's time capsule and bury it in the backyard. Then you can dig it up on your wedding day.
3.

Decorate Picture Frames
Buy some wooden picture frames and then decorate them in any way you'd like. You can place your names on them, funny quotes on them, or compliments on them. If you don't have a perfect picture to fit inside of the frame, now's the time to take one!
4.

Create a Board Game Together
If you're bored of playing Life and Monopoly, then you two can create your own board game. Grab a piece of cardboard to draw the playing board and create miniature characters to use as the pieces. To make it even more fun, the question cards can be quiz questions about your relationship!
5.

Decorate Mugs for Each Other
This is the cheapest craft you could create, because you can buy a plain mug, plain teeshirt, or plan pair of socks from the dollar store. Then you can grab some paint to decorate a gift for the other person. You can even tie dye the pieces of clothing if you'd like.
6.

Buy a Children's Play Set
You might feel strange going through the children's section of a store, but there are some fun crafts you can buy there. Relive your childhood by buying a fake volcano you can erupt or a set of beads to create friendship bracelets. Then you can make a fort out of blankets and complete the craft inside.
7.

Write "Open when" Letters
You can create "open when" letters, which are basically letters that you'll write to your boyfriend that he isn't allowed to open until later on in life. You can write letters meant for him to open on his birthday, on your anniversary, or even on your wedding day.
It's time to get creative by engaging in these fun activities! Each and every one of them will bring you closer to your partner, so you might as well give them a try. What other crafts have you made with your boyfriend before?
{{#comments_count}} Show Commnents ({{comments_count}}) {{/comments_count}}