How to Deal when Your Man Won't Go down on You but Still Expects Blowjobs 😒👄💁 ...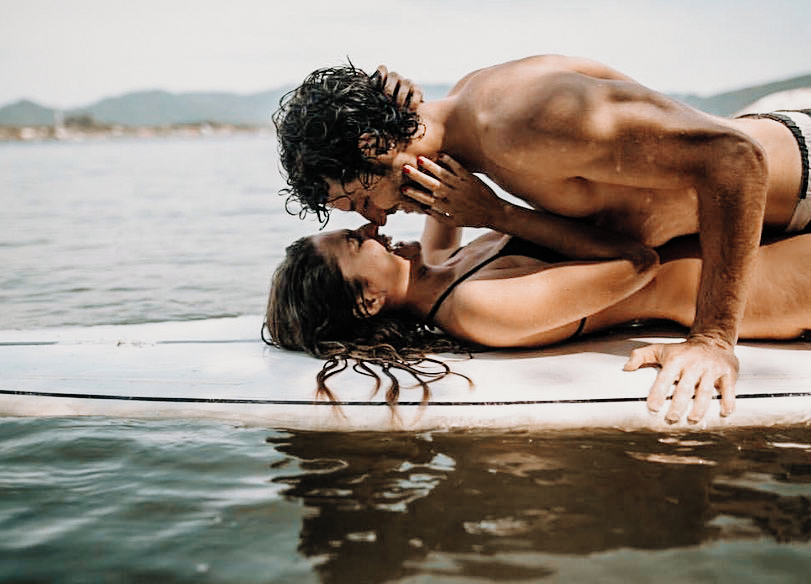 Okay, can I just say that this is rude af 💁 in the first place? Perhaps I'm biased toward cunnilingus, but regardless, I ℹ️ also believe that sex is about pleasuring each other. Doesn't matter if it's a one night stand or a long-term commitment, either. If you're hooking up, you should both get off. Oral 👄 sex is a very good way to do that, right? And we all know most men 👥 adore ❤️ blowjobs, yes? Well, lots of women also enjoy getting head. The problem is this: some men 👥 actively expect oral 👄 sex, but they don't want to return the favor. There are all sorts of awful reasons why they won't, but most of them are due to all the ridiculous rumors floating around about vaginas. Here's the thing to remember: almost everybody likes getting head. When you're up against a man who expects blowies from you but won't go down 😣 on you in return, here's what you do.
1.

First, Give It a Second and Try to Understand
I know. It's tempting to write off a guy 👨 as selfish when he doesn't want to head south 👇 of the border, but hear me out, here – and hear 👂 him out, too. Maybe there's a reason. Maybe the majority of the girls 👭 he's been with rejected his offer of cunnilingus. Hey, it happens – some women don't like it or aren't comfortable letting a guy do it right away. It's also possible that he hasn't been with many women or that he hasn't gone down on (m)any women – he might be nervous. There won't always be a legitimate reason – he might pull out some sad 😟 old vagina tropes – but it's worth asking.
2.

He Can't Read 📚 Your Mind
Sure, it seems pretty self-evident that if you give head 👦🏽 to a guy, you'd like 💙 a little something in return. For some guys, it is a given, but not for all of them. So, don't be afraid 😨 to tell your guy that you'd like 👌 him to go down on you. After all, he tells you when he wants you to give him head, right? No reason you shouldn't do the same. Own your pleasure. You have the right to ask for what you want when you're with your lover.
3.

Drop Some Sexy Hints in Your Dirty Talk
Approaching it from a fun, lighthearted angle 📐 is easier for some women. So, if your foreplay involves talking 📢 dirty, you can start dropping hints about what you'd like him to do. You can be as subtle or obvious as you like 💚 – whatever feels comfortable. Do the two of you ever sext? Because, if so, that's another great 👍 opportunity to send some subliminal hints about what you'd like him to do with his tongue.
4.

Tell Him What You Want Outright
You should never be afraid 😨 to speak up for what you want, especially in matters of sex. You can always sit him down and tell him that you really want him to go down on you. Odds are an open conversation like this will reveal all sorts of things, especially the reason behind his complete lack of oral 👄 reciprocity. His response may decide the fate of your relationship, though. It's one thing if a guy 👤 is nervous 😅 or inexperienced, but it's quite another if he says that he thinks vaginas taste 👅 weird or some dumb ish like that.
5.

Touch Yourself in Front of Him
You can always sort of show him what to do and where to go, too. The next time 🕟 you're fooling around, start touching yourself in front of him. Be very deliberate, very thorough, very sexy, and very honest. The sight of you doing that will excite him, doing it will certainly excite you, and that can easily lead to an evening of extraordinary cunnilingus.
6.

Try the Blowjob Honeypot
Okay, this won't be everyone's cup of tea, but it's a tactic that works for many women, especially those who aren't really keen on confrontation. Give ahead and keep it up with the fellatio. Give him all the pleasure in the world. Let him come to expect it … and then stop. Let him know that the party 🎉 train 🚝 has made its last stop ✋ until he returns the favor.
7.

Or Stop 🙅 Giving Them Altogether
This tactic works well, too, but again, not every woman 🙎 will want to try it. It's extra difficult if you enjoy going down on a guy. Why? Because this involves just stopping and putting your skills on lockdown. Just tell him that you're not going down on him until he goes down on you, period.
As you can see, some solutions are better than others. Out of all of them, talking 📱 to your partner is the best course of action – don't you think?
{{#comments_count}} Show Commnents ({{comments_count}}) {{/comments_count}}