7 Cute Winter Date Ideas That Will Give You Goosebumps ...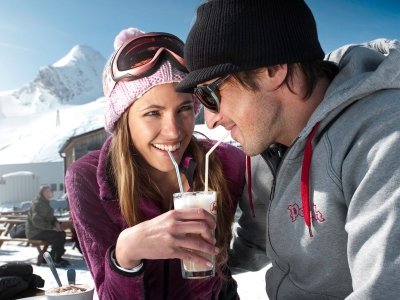 Yes, yes, I know it's cold outside, but there are tons of cute winter date ideas out there! Just because it's cold doesn't mean you have to stay bundled up inside! Trust me, I live in Toronto and my boyfriend and I still find fun things to do in the outside world! It's all about having a little creativity and bravery and wrapping yourself up in something warm and cozy! Here are 7 cute winter date ideas that will give you goosebumps.
1.

Go Skiing or Snowboarding
One of my favourite cute winter date ideas is to go skiing or snowboarding. I'm not the best snowboarder in the world, but I do love to ski. So for my birthday last year, my boyfriend and I went skiing! It was tons of fun, minus all the blisters that I got on my legs. And if you don't know how to do either one of them, it's a perfect time to let your partner teach you! It'll be a great way to bring the two of you together. Definitely a to-do on the list of cute winter date ideas!
2.

Take a Walk with Hot Chocolate
One of my favourite activities to do with anyone is to take a walk, but taking a walk with a steaming hot beverage to help you battle the cold, crisp air? That's even better! This activity on the list of cute winter date ideas is fun, easy to do, and doesn't cost a penny! You can even make your own hot chocolate in a traveler's mug and take a walk through your favourite park! Just make sure to snuggle up tight, body heat helps!
3.

Put up Holiday Decorations Together
I love, love, LOVE decorating the tree and the house during Christmas or Valentine's Day. What's even more fun is if you and your other half make it a couple's activity! My baby and I went out and bought a real tree this past year (20 bucks at Ikea!), came home and decorated it. It was so much fun! Totally one of the best date ideas ever!
One of the most fun winter date ideas comes in the form of tobogganing. It's a childhood favourite, so why not go out and revel in a childhood activity that you both love? Trust me, you'll have tons of fun!
It's like something out of a romantic comedy, the two of you going skating somewhere on a beautifully snowy day, holding hands, falling on top of each other when one person trips. It's the stuff Hollywood movies are made of! Or the both of you could be champion skaters and just try and skate circles around each other. Either way, it's definitely a must-do on the list of cute winter date ideas!
6.

Make a Snowman Together
Everybody all together now: 'Aaawwww!' Definitely one of the best winter date ideas you and your other half should do is to make a snowman together. It's all about bonding and creating new memories! And while you're at it, make two snow angels side by side and stick your tongue out to catch some snowflakes!
7.

Go to an Outdoor Hot Tub or Spa
I would love to do this one! We have an outdoor heated pool a couple hours north of where I live, and every time I go there in the winter, I see this beautiful pool with steam and fog rising out of it. It looks so unbelievably gorgeous and serene; it makes me want to dip my toes in there every time! This is not only one of the cutest date ideas, it's also one of the most romantic!
You see, ladies? There are tons of things to do in the winter with your other half! You don't just have to stay inside and watch movies (even though that's pretty awesome too), just bundle up and go have some fun! Winter is such a romantic season, there's a reason Valentines Day is in February, you know! So tell me, ladies, what are some of your cute winter date ideas?
{{#comments_count}} Show Commnents ({{comments_count}}) {{/comments_count}}