Sealed with a Kiss - Romantic Ideas for Sending Handwritten Letters to Your Lover ...
By Alison
One of the most romantic gestures you could make would be sending a handwritten letter. What? Write a letter! But who's going to do that when you can Whataspp or Facetime your partner? Well, that's precisely why it's so romantic to write (not print) a letter - it takes effort. Won't your beloved be delighted and touched by the gesture? So here are some romantic ideas for sending handwritten letters to your lover …
---
1

Include a Doodle

Add a doodle to your letter to make it personal and romantic. Do you have a nickname for your lover? Or do you share a pet? Do a drawing inspired by that. You could also be soppy but sweet and decorate the letter with hearts.
2

Find Postcards with Personal Meaning

If you're going to be apart for some time, collect vintage postcards to send to your partner. You can often find cards that haven't been written on, and there's something very romantic about black and white photography. Browse in antique shops, market stalls and antiquarian bookshops. Look for cute cards, cards of places you'd like to visit together or pictures that will make your partner smile. Stock up on enough cards so that you can write every week - it'll be something for them to look forward to.
---
3

Write with a Gold or Silver Pen

A handwritten letter looks even more special if you write in colored ink. Silver or gold looks particularly classy, although if you choose a silver pen you may also need to buy colored paper to make the writing stand out. Purple paper would look very striking with gold or silver writing.
---
4

Edit Your Letter

This might not sound too romantic, but you'll want your letter to appear perfect. You can't delete or cut and paste in a handwritten letter! You might want to rewrite sections, or think of something that you want to add. Write it out in draft form first (you can do this part on the computer), and check for any mistakes. Once it's perfect, copy it out by hand.
---
5

Look to the past for Inspiration

Are you stuck for ideas on how to word your letter? Look to lovers from the past for inspiration. Read some of the letters that Henry VIII wrote to Anne Boleyn, or Elizabeth Barrett to Robert Browning. While you may not want to use the flowery language that they used, you can put their phrases into more modern English or express the same feelings another way.
6

Draw a Personalised Cartoon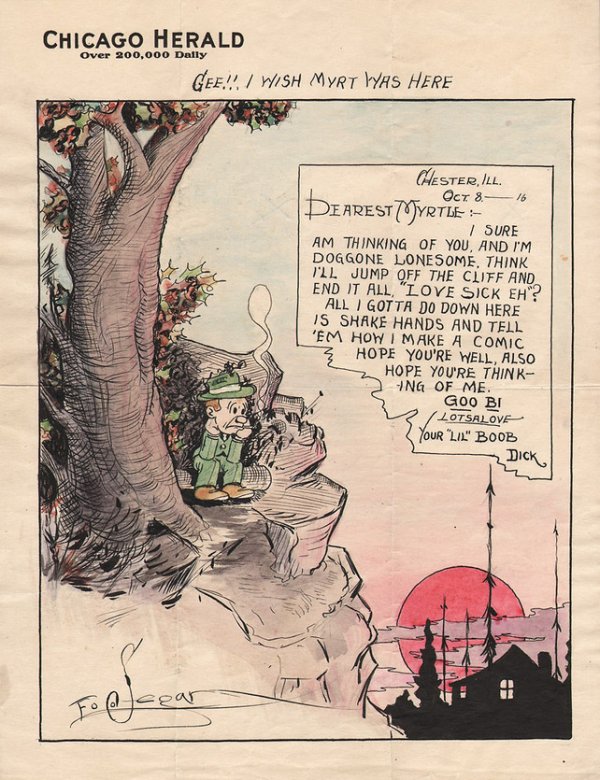 A letter doesn't have to be just words. If you've got a talent for drawing, then do what the cartoonist of Popeye did and send a personalised cartoon to your beloved (h.fastcompany.net). Nothing will make your lover smile more than knowing that you care enough to create something just for them.
---
7

Print out a Picture

Have you seen a picture you love on the Internet? Print it on a sheet of paper and use that to write your letter. You'll need to resize the picture so that it fits in the corner of the page. Or you could print it over the entire sheet, but make the picture very faint so that you can write over it.

A handwritten letter can be kept forever, so it's more meaningful than an email or text. It's really worth making the effort - your lover will adore reading your letter! What is the most romantic thing anyone's ever done for you?
---
Comments
Popular
Related
Recent